Tifone1

Add Tifone1 as a friend

Tifone1 will be notified and will have to accept this friendship request, to view updates from Tifone1 and their ratings you must follow them.

Remove Tifone1 as a friend



Lists
Recent reviews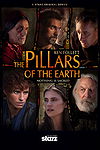 Posted : 3 years, 4 months ago on 7 January 2020 12:20 (A review of
The Pillars of the Earth
)
This product was categorised as a movie, but it is a tv series instead. Please, put it back to its original section.

0 comments,
Reply to this entry

Posted : 3 years, 11 months ago on 8 June 2019 02:53 (A review of
Chernobyl
)
Chernobyl is a mini series so it must be categorized in the TV SERIES section, not in the MOVIES section.

0 comments,
Reply to this entry
Movies
TV
Books
Top rated

My books page

Rated 1 books

Favorite Authors
DVDs